Key takeaway
Maybe your LinkedIn Company Page followers aren't the metric you should be paying the most attention to on LinkedIn.
Most organizations boast that one of their key differentiators is their people. People. People. People. And, most employees want to work for a company whose culture aligns with their values. Culture. Culture. Culture. In today's "Great Resignation" or "Great Reshuffle" finding, attracting, and retaining talent is high on the priority list at most companies today. If it's not, it should be.
People are at the center of making organizations work. Knowing people and expanding circles of influence increases opportunity.
Here's the stat that caught my eye.
HPE is one of those companies we tend to forget about, as their best times are probably behind them. However, according to the LinkedIn advertising statistics published by CNBC, there is something that this company is great in.
What's interesting about HPE is not the number of followers the company has on LinkedIn but rather that it has 43 million first-degree connections, and 138 million second-degree ones. Microsoft, which has almost 10 million followers, has nowhere near the number of connections that HP has.
HP's LinkedIn followers are 2.5x more likely to recommend HP. (Source: LinkedIn)
Having first or second-degree connections with nearly a quarter of LinkedIn's population, HP is able to reach an unreal number of potential employees, customers, and business partners. According to research conducted by LinkedIn, HP's followers are among the most loyal ones, and they are 2.5 times more likely to recommend the brand to their friends, providing HP with more than they could have ever hoped to achieve on any social network.
In March 2022, HPE has over 3.4 million followers. However, if you consider that they have more than 43 million first-degree connections and 138 million second-degree connections, where is there greater value to the organization?
Yes, this is an enterprise-level company. Can a small to mid-sized company create the same kind of effect? I think so.
Leadership needs to think less about social media vanity metrics and more about network mapping, cross-connecting, top-to-top or peer connecting, and strategic relationship management. Companies are a collection of people coming together to work in various capacities. Each of those people know people. Create a culture of people who understand the value of connecting and knowing other people.
Celebrate people talking, engaging, supporting, encouraging, and promoting one another. Consider the business relationships, businesses created from alumni networks of companies like HPE, Apple, P&G. They have spawned countless new businesses.
Organizations need to look deeper into their natural resource pool and encourage their employees to be natural connectors, to connect for purpose and intent. The part that organizations don't like is they can't control it. The company Page followers, while they deem important, are rarely proactively engaged but it can be managed by marketing. On the other hand, individual networks belong to the individual person and because of that perhaps both the individual and the company say it's off-limits.
Small thinking, I'm afraid. If someone works for you don't you think they see the value of promoting the company they work for? Give 'm something worth sharing and believing in and let them go. Trust them.
The currency of one's network, especially in revenue or people-oriented roles, is critical. Why would you hire a business developer or talent acquisition professional with no digital presence or relevant digital network? They may think they have a good network and even express they do, but it's just not on LinkedIn.
I say beware. And then ask questions. I want to understand why. I would question the validity of whatever position. And, then I can respectfully disagree. Digital networks connect you to others, strengthen your ability to know more people.
Ahh, maybe that's it. People don't want to know people.
More and more I hear people say, "I don't like people." "I am not a people person." "People annoy me." "I'd rather be behind the scenes."
I also hear, "I never really thought I needed to build a network. I was part of a large organization." "It didn't make sense to me how to think about networking, I'm not in sales."
Best of all statements I hear are from in-house hiring managers and recruiters. "I don't have time to talk to candidates." "I don't want to talk to candidates." Every time I hear that feedback from a prospect or client, I want to go mad.
These statements, sometimes shared as a badge of honor and for others, shared reluctantly, say something else to me. They reflect a bit of naïveté, hubris, lack of perspective, and short-sightedness on soft skill-building and tapping into one of our greatest natural resources; other people.
You might be saying to yourself, "She is totally overlooking that some people are introverted, quiet, shy and is sounding judgmental." I understand not everyone is gregarious and extroverted. Truth be told, neither am I. I fall right on the median on the extrovert introvert scale. I am not the person who walks into a room of 100 people and works it. I will, however, talk with people I know, meet a few new people, and consider it a productive and valuable event.
I respect those who are introverts. All good. It takes all kinds of people to make the world go round.
It's not my place or of enough interest for me to take that on, however, I can't think of very many people who build productive, fulfilling, and high-performing careers who have not established a community or communities of people so they could collaborate and advance their ideas, product, and career.
I came across a statistic that has really caught my attention and want to explore its importance because so often we think a network is singular and on LinkedIn it is. We talk about an individual's network and a company's followers. On average, an employee will have 10x more first-level connections than a company will have LinkedIn company Page followers. This is especially evident in small to mid-sized companies.
I am also not talking about having a following and building a ginormous network of people. If you have read other posts you know I am not talking about building mass social influence. I am about building highly engaged groups and communities where you and they can support, encourage, cultivate, and dare say promote one another. It's a reciprocal engagement and exchange.
It works naturally and authentically because you are known.
In the business it's necessary to know and be known, to be interested and interesting to others. To lead, build teams, gain consensus, hire and retain employees, innovate through research and development, identify, initiate and close new business, manage customer and supplier interactions and relationships. The list goes on and on depending on who you are and the type of work you do.
LinkedIn says that, on average, each first-level connection (person) provides you access or potential connection to 400 new people. That is pretty powerful and reinforces you don't need thousands of people. You need the people that align with your goals, aspirations, and values. And, you need those people in your orbit well ahead of a new job, career, or role.
There are different types of networks to consider building starting with alumni, friends, geography, immediate colleagues, and field of study/industry. This is your immediate personal network. Each person in this network knows you and you know them. They know other people that you should know. I consider this your core, long-term network.
A network is layered.
Beyond a person network, is more expansive, slightly less personal, and is in line with what you do professionally and aspirationally. This may be marketers connecting with other marketers, entrepreneurs knowing other entrepreneurs, larger alumni networks, or people connecting along topics or areas of interest like leadership, economic development, culture, diversity, neurodiversity, and the list goes on and on. This network is less based on geography, and in fact, can be global. The common thread is the connective tissue.
Another layer may reflect an immediate need. You're looking for a new career or job. You need to shore up your network and connect with recruiters, and definitely, recruiters specializing in what you're interested in. Connecting with those recruiters and hiring managers within an organization immediately expands your network and increases your chances of coming up in their searches.
Linkedin recruiting statistics show that 122 million people have received an interview via LinkedIn. Another 35.5 million were hired by a person they have connected with on LinkedIn. (Resume Writer)
35% of employees refer candidates in order to help their friends.
(Source: TalentLyft)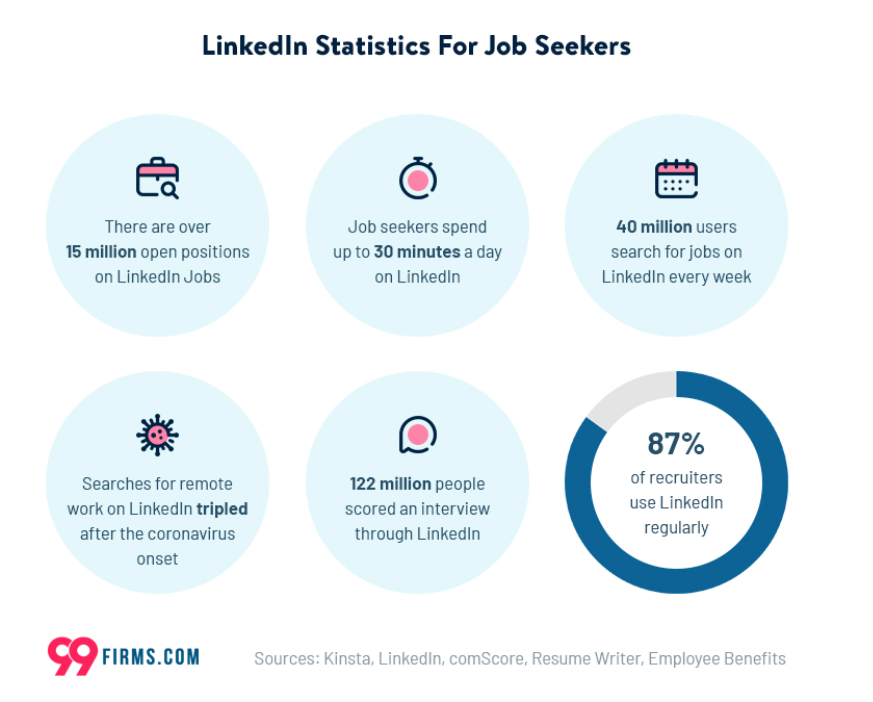 One of the main reasons an employee would refer a candidate for a job opening is because they are trying to help a friend find a job. With LinkedIn stats showing 35% of employees being included in this practice, employers can't help but doubt the legitimacy of those recommendations and references.
A CEO looking for a board position needs to consider connecting with people, often consultants, who work on board searches, other CEOs who are on boards, and leadership teams of the companies they are interested in.
The worst that will happen if you reach out to connect with them is that they don't accept your connection request. No big deal. Move on.
Pre-LinkedIn, I recall a colleague saying that when he was approaching a job search, he would write down the names of 100 people he knew that might be able to help him gain some insight on who was hiring and how he might network into the company. Yes, that was in the 21st century! The early part.
Today, it's so much easier. I click a couple of buttons and I see everyone I know in a certain area, with a particular title, who's hiring, etc. It's right there, visible to everyone. Visible is one thing, connected is another.
There is more focus today on knowing people. Actually knowing them and I think that's good.
Vanity Metrics
We talk a lot about vanity metrics around content and how there is often no correlation between views and revenue or hiring.
The number of people you're connected with is also a vanity metric of sorts, right?
I say, let it go.
Go for quality over quantity. Keep it relevant and be comfortable having a smaller community. It's your community.
LinkedIn is not the largest platform among social media, however, it is the most trusted and leads in lead generation and recruitment outcomes.
At the time of this article, LinkedIn has 800 million+ members. To put that number in context, Instagram currently has 1 billion users, and Facebook has 2.74 billion. It's not the largest of the social networks, but with a specific business focus, it's an audience worth noticing.
The average connections per member on LinkedIn is 400. However, about 60% of users have over 1000 contacts. On average, an executive will have just shy of 1,000 connections.
Individual networks can enhance credibility if built correctly and add direct value to their respective community. If you have enough of those people within an organization, the collective recruiting and business development power exponentially increases for good.
There are so many practical ways to look at collective network mapping. Start with your leadership team. Then move to your functional areas: sales, Human Resources, customer service, product development, operations, finance. Leadership must develop peer relationships in various areas including client relationships, suppliers, industry SMEs, strategic partnerships, channel partners, personal, trusted advisors.
LinkedIn gives us the tool to move network mapping into an active exercise that drives economic and reputational outcomes for everyone.