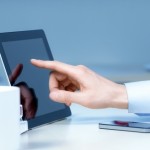 We all know mobile is changing faster than we can keep up with, and certainly faster than we can write about it. It's redefining how companies communicate with their audiences and the world. Even the largest companies are not completely prepared for the experience people expect. As Steve Rutkovitiz, CEO of Choice Technologies, mentioned yesterday when I spoke to him, "managing technology trends is about understanding escalation and expectation." Interesting, right? What does it mean? It's listening and understanding how people want to use their devices to do their work, be entertained, and engage. To that end, companies like LinkedIn are dedicated to creating better mobile experiences.
Is LinkedIn there yet? Probably not. Is their app better than it was a couple of years ago? Absolutely.
Let's take a look at their mobile apps, there are four. Yep, four. Technically there are five, but as of March 7, 2014 the app Intro will no longer be supported. A couple of things to do before you use any LinkedIn app and then get frustrated.
Make sure you always have the latest version of your device's software downloaded. (I'm an iPhone and iPad user so it's what I know. For iPhone + iPad: go to Settings, General, Software Update. As of this writing, February 8, 2014, 7.0.4 is the latest update).
Go to your LinkedIn app, check your settings, select what you are interested in and create the experience you want on LinkedIn's apps. On your iPhone app: Look for the gear

in the upper right corner and review the settings. On your iPad, look for your LinkedIn profile photo on the far right, click and choose Settings. The settings on iPad are not the same as the settings on the iPhone. It's good to realize it's not seamless across their mobile platforms.
Tips on LinkedIn's 4 Apps
Let's take a look at the various LinkedIn apps, some ways you can use them, and a few pros and cons about them.
LinkedIn Phone App
I don't like to connect with people on my phone. Remember we want to personalize our invitations and you really can't personalize invites on mobile.
If you are on someone's Profile and hit Connect, it will send an automatic invitation. Not preferable unless you are sitting with them and say, "Hey, let's connect. I'm going to send you a quick invite."
If you go click the LinkedIn logo at the top left corner, then click on the paper+pencil icon at the top right corner, it then pops up three choices at the bottom New Message, New Invitation, Cancel. Click New Invitation. You need to add their email address and then you can personalize the message. Yes, you need their email address to do this. Be careful to make sure you do this from a screen other than the home screen, however, from there, when you click on the paper+pencil icon at the top right, you instantly get a screen that allows you to post a status update.
Periodically check in and make sure you have the latest downloads, from the iTunes App Store and Google Play.
I use the iPhone and iPad app for the following:
Home page updates throughout the day. I like to use my Home Page to stay current, see who's talking, sharing, posting and create quick messages to stay in touch.
Review individual Profiles before talking or meeting with someone. Look for ways to connect with the person you are meeting or talking with. Know what they are doing on LinkedIn. When you click on their name and bring up their Profile you will see the following options:

Send Message: running late, want to send a quick thanks for the call, click message and send it off.
Recent Activity: I really like this. Click and see what your connection is "talking" about. You may find something you should reference. You look current and interested, always a good idea.
Connections: Doing some networking with this person? Great way in a 1:1 networking call to review their connections and see who you might like to know.
Groups: Looking for some new groups? Look at key influencers, clients, prospects that you are connected with and look at the groups they belong to. You may get some new ideas. You can click through and actually request to join the group.

Scroll down and now you can review their profile so you are familiar with what they are saying about themselves, where they've been and their experience.

I also integrated my Google calendar into the iPhone app.
By the way, from your own profile:

View who's viewed your profile. Keep current on this and consider sending out a message, "Hi, I noticed you viewed my Linkedin Profile, if I can help you with anything, let me know." Mean it though, can you help?

Review your connections—you will see everyone's photo and the alphabet along the right side, so you can go right to the letter of your connection's last name.
LinkedIn App for iPad
LinkedIn iPad: Just like my phone―I don't like to connect with people on my iPad. Remember we want to personalize our invitations and it doesn't really work well on the iPad. The great advantage to the iPad app over the phone app is size, right? It's easier to view and understand what you are clicking.
Notice the navigation is different on the iPad. The boxes across the top (keep scrolling to the right) show the various LinkedIn sections available including: Home, Profile, Connections, Influencers, Groups, Companies, Who's Viewed You, Jobs, People You May Know, and Channels.
LinkedIn Contacts
Lindsey wrote about Contacts and her tips are definitely worth reading. I don't know about you, but I am usually in a hurry and I need to grab information as fast and simply as possible, that's what Contacts lets me do. There are only three tabs—love that. Don't forget to review your settings (top right on the Contacts tab, Settings, Manage Sources).
I can do a quick sort in Contacts: alpha, recent conversation, newly added or sort by filters including Tags, Companies, Titles, Locations, Sources. I love the filters, check them out. If I filter by Companies, I see all the people I know in a particular company (we can never know enough people in the companies we work with) or by Locations, etc.
When I choose a particular connection, I can message via phone, email or through LinkedIn. I can call them or choose the pencil+paper icon and add a note, reminder, and how we met (remember, LinkedIn now works as a CRM-lite).
The "To Do" in Contacts gives you a quick look at who is celebrating a birthday, anniversary or reminder you have set. You can action those to-do's right from the app—super efficient.
The calendar in Contacts might not be as vital as the other tabs, but it's nice to have a quick place to look at your day.
LinkedIn Pulse
Pulse by LinkedIn is the professional news app tailored to you. Pulse allows you to customize your news reading experience, easily explore compelling professional content, and share stories to your favorite social networks. Sign in with your LinkedIn account to sync what you're already following, save articles, and join the conversation.
As an avid reader and information junkie, I love that I don't have to go all over to find great content. I tailored Pulse based on subjects I am interested in and receive the information in one place. It's super easy to share from right from Pulse.
Features:
Easily browse thousands of trusted sources, from major publications and LinkedIn Influencers to blogs and beyond.
Discover insightful content from Pulse's comprehensive catalog of thousands of sources. New and noteworthy publishers and influencers each week.
Customize feeds based on your interests to get fresh, personalized content delivered daily. You can also directly import your RSS feeds.
Share with your favorite networks such as LinkedIn, Twitter, Facebook, YouTube, Flickr, and Tumblr.
Sync your sources. When you login with LinkedIn, you ensure that what you follow and save is available on all your devices. Saved stories can also be sent to Pocket, Evernote, Instapaper, or Readability.
No Internet? No problem. Pulse effortlessly loads the stories you read so they're ready whenever and wherever you are.
If you are using Intro, LinkedIn is shutting it down on March 7th, learn more and how to uninstall.
Remember, apps are light versions of the web-based platform. Next week we will look at CardMunch and Rapportive. And, don't forget we are always interested in your LinkedIn experience and success story, please share this post with someone you know and drop a note. See you next week.
GET ANSWERS | Personal Coaching Sessions Available
[download url="https://www.interoadvisory.com/request-more-information/" color="blue"]Request more info[/download]