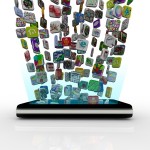 Last week we took a look at ways to use your LinkedIn apps on your tablet and phone, what works well and what doesn't. Today, I want to look at a couple of other apps that play well with LinkedIn and why you want to take a look at them.
Who doesn't misplace business cards right when they need them or have a drawer full of business cards from the last six months of networking? Who doesn't want to find a better way? I've been using LinkedIn's CardMunch (iPhone only app) for at least a couple of years and have loved it.
I typically receive a business card (it's particularly helpful after a big networking event or conference) and take a picture of the card with the app. It's then transcribed by real people, sent back to me and then I can:
connect with them (usually don't do that in CardMunch)
email them
forward their card information to someone else
save their contact information to your iPhone address list or delete
Once I get it back, I can see a person's business card at the top of my screen, then their current LinkedIn profile. If they have a new position, I will see it but it's the scanned card that is the focus. It can be a bit confusing but it also may serve as a way to remember where you actually met. Further down the page, you will see when you scanned the card and you can add a note.
I use it more as a way to follow up, more to manage potential leads and new people.
In full disclosure, it appears not all is well at CardMunch though. I've noticed some "wonkiness" lately — when I add a card it's taking longer to receive back. I tried to delete a duplicate entry and my request timed out. I've also noticed others writing and commenting on issues with CardMunch.
There could be several reasons for this including LinkedIn potentially retiring the app or its development is simply not high enough on the list of LinkedIn's priorities.
Check it out, if it works for you, use it. If not consider Evernote or Full Contact (both iPhone and Android) among the many choices.
Now let's take a look at Pulse.
Pulse replaces LinkedIn Today (which I loved) and is touted as a new and improved version. It's available for iPhone, iPad, and Android devices. In an attempt to better organize all the content that is fed by members through LinkedIn, Pulse lets you set up channels and follow influencers. I think it's the influencers who make me the most crazy. They are everywhere and they simply dominate the LinkedIn Pulse landscape these days.
As is always the case when you download an app, set it up first before using it so it actually works for you. Click on the silhouette in the circle at the top left, which will take you to your profile and from there, tailor your experience.
Connect other services like Facebook and Twitter
Save your stories to other apps or utilities you use like Evernote, Pocket, or Instapaper
Set up notifications for breaking sources and updates about new and featured sources in the Pulse catalog
On the opposite corner (top right) click the search icon (magnifying glass) and review the categories. Some of the categories I have are:
News with 39 channels — the channels are the individual news sources, i.e., The New Yorker, Time, USA Today, Salon, BBC News, etc.
Technology with 65 channels — TechCrunch, Re/Code, Cnet, etc.
Lifestyle with 41 channels — Good, Vogue, Outdoor Life
Customize the content you want to receive. If the channel is checked in a blue circle, you are receiving content from that channel. If there is a blue cross, you can add the channel to your preferred content mix.
You will then see all your channels across the top (like a navigation bar), click on one and you will see all the news sources related to that. When you click on one of the tiles to read the actual article you now scroll up and down to read the article.
At the top of a particular article you will see the following:
Thumbs up (like) button — a good way to begin to begin participating on social
Comment button — another good way to begin participating and creating a social voice
Forward arrow — allows you to share the article with your connected services (Facebook, LinkedIn, Twitter, email) … this will take you further, especially if you add a comment with it.
At the far right you will see three dots arranged vertically, click there to see the following:
Save the article — within Pulse and to any other service you connected to, i.e.. Evernote, Instapaper
Copy the link to the article — go to an email, blog, document, and paste the link in
Reading options — change font size and brightness, choose night mode
Notice the further into Pulse you go, the more you tailor the experience. I like Pulse because I don't have to go to a bunch of different sources to read great articles and learn about what's important to me. Everything comes to me in one place. The downside is you can have a lot of content coming at you all the time.
I love information and learning about different things, so I like a lot of variety and force myself to look at new sources I may not be familiar with, but I have to continually manage it for time and sensory overload.
In the end, I think my takeaway on apps is that they are useful if they are set up correctly and the expectation is realistic. Well, apps are by definition a self-contained program or piece of software designed to fulfill a particular purpose and a mobile app is an application software design to run on a smartphone or tablet. I think we expect too much from apps and in the end, I go back to logging into LinkedIn. It sounds old school, but it works and I can control the experience.
Just don't expect too much, consider upgrading if it's an app you really like and they have an upgrade. Have questions about an app? Get in touch.
Image credit: <a href='http://www.123rf.com/photo_8711468_many-application-icons-are-downloaded-into-a-modern-black-smart-phone-appearing-to-float-over-the-de.html'>iqoncept / 123RF Stock Photo</a>