Recruiting great talent is as important as finding profitable clients who consider you a partner and not simply a vendor.
In a recent presentation to more than sixty CEOs and business owners, less than 20% of them had a dedicated recruiter on their team. Most of these companies also said they didn't have a talent or employer branding strategy. These companies were not all small businesses either. They ranged from four to 500 employees, all had revenues five million plus, and several worked nationally and internationally.
We see this quite often. And we also know firsthand how difficult it is to recruit great talent for companies who have little to no digital presence, so that potential candidates can gain information. Worse, the lack of leadership's presence, content and employee engagement dates a company more than almost anything else, even if the company is progressive. You can have the greatest product, service, and company in the world but if no one knows about it, what's the point?
We try to help companies with this problem. When they call Erin Miller, our Talent Finder, and work with her, she asks some hard questions. The answers to her questions aren't implemented overnight. And yet, Erin's results speak for themselves even in the face of challenging recruiting assignments.
Erin's is a recruiting anomaly. She is not about putting people in seats but rather finding people who will fit a client's culture and be a good long-term employee. She is thoughtful, interested and committed to her clients and her candidates. Yes, she cares about the experience each of her candidates has with our clients. Nothing disappoints her more than when our clients neglect to respond, make a decision or engage with enthusiasm.
Erin is primarily looking for candidates who are already employed; passive candidates who at the moment she reaches out is vetting her and her message as much as she has vetted them.
She works hard to be engaging, personable and invested.
When LinkedIn recently sent Erin an email sharing her user stats it was an affirmation that her strategy and process works. It shows that taking the time to craft a process and messaging that resonates yields better results.
Let's take a look at the stats and why they are important. Use Erin's stats as a benchmark. How does your recruiter stack up?
Better? Awesome, make sure you keep your recruiter inspired to press on and get even better.
Less than expected? Have you provided your recruiter with all the tools they need to be successful? If not, you need to. If so, well, that's another conversation.
In full disclosure, Erin uses LinkedIn Recruiter which provides her access to the entire LinkedIn network of more than 500 million plus people. Recruiter is LinkedIn's flagship recruiting product.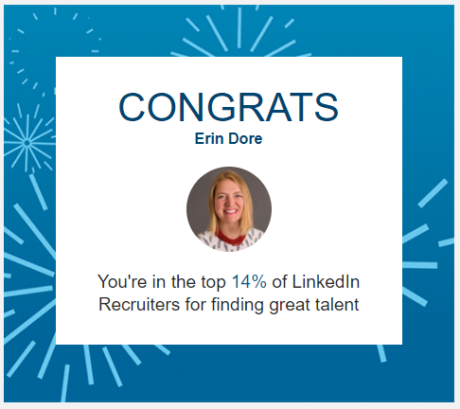 Erin outperforms 86% of her fellow recruiters including those who are solely responsible for recruiting exclusively.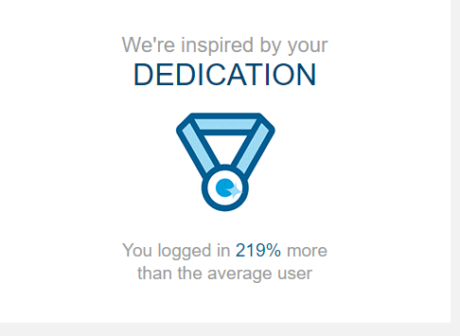 One might say maybe recruiters aren't finding talent within LinkedIn and are using other sources. I doubt it. I think people are not using LinkedIn and LinkedIn Recruiter well. They only sort of use it. And, that is simply not good enough.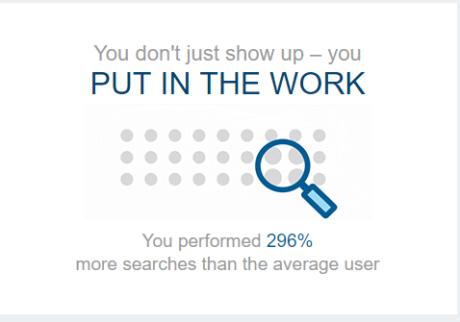 As a Recruiter, if you are not doing the searches, you aren't doing the work. The searches are the key to finding talent. Not just any search either. Getting creative, being thoughtful and thinking differently yield better results and more potential candidates to view.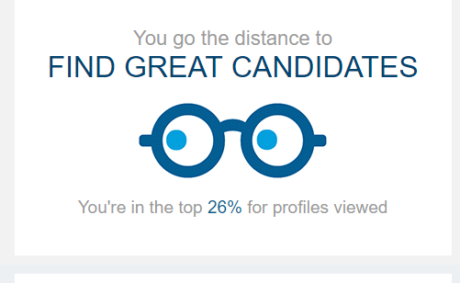 Passive and active candidates typically check to see who is reaching out to them. We are curious by nature, aren't we? If they look at your recruiter's profile and there is little there, what impression does that leave? Imagine if they could get to know the recruiter or the company by reviewing your recruiter's profile. Wouldn't that be helpful?
I think so too.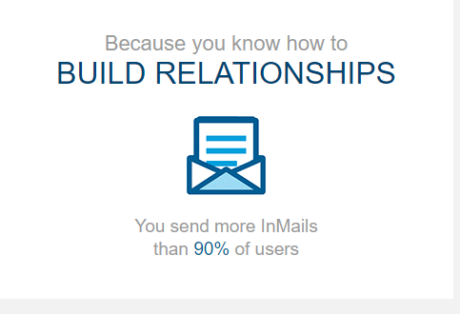 InMails should be part of a recruiting strategy. The key is to personalize them so they illicit a response. Favorable or not? Why? If someone responds, even to say they aren't interested, your recruiter receives a credit back. Erin is in the enviable position of having 566 (at the time of this post) left of her annual allotment. Why so many? Because people respond to her and she responds back. Remember, it's a dialogue.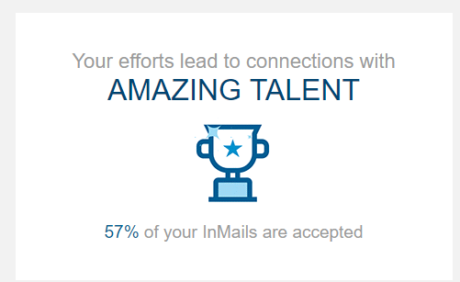 With more than half of Erin's InMails accepted she has an opportunity to talk with people who may be a good fit for our clients or may know of someone who is. She has the chance to hear what people expect and desire professionally. This insight, shared with clients, helps them to understand whether they are that kind of company.
If your recruiter isn't experiencing similar results don't let them languish in "sort of" utilizing the LinkedIn landscape. Rather, help them get better. Or reach out so that we can discuss a plan to get them on the right track!