Recently I have had clients asking the same question when it comes to their outreach through Sales Navigator, "I'm sending messages, but I am not seeing any responses?" My first question to them is if they have checked their Sales Navigator Inbox and their response is always "…my what…? I'm not sure where that is."
LinkedIn.com and Sales Navigator each have their own separate message centers. If you send a message or Inmail through Sales Navigator, the sent message and response will appear in your Sales Navigator message center. Makes sense, right? However, if you send a connection request, the notification of acceptance will appear in your LinkedIn.com message center. This is because when someone accepts your connection request, they are now a connection of your LinkedIn.com profile.
The major difference between your LinkedIn.com message center and your Sales Navigator message center is the appearance of the message thread. In LinkedIn.com, you can see the back and forth messages between you and the recipient similar to a text message. In Sales Navigator, you have to go your sent folder to see your sent message, then back to your inbox to see the reply. Hopefully LinkedIn has plans to update the Sales Navigator inbox to reflect LinkedIn.com's message thread as it is much easier to see all the messages and much more time efficient. Fingers crossed!
If you are not sure where to find your Sales Navigator inbox, have no fear! I am going to show you exactly where that hidden treasure of opportunity is located.
From your LinkedIn.com profile, hover over your photo and click "Go to Sales Navigator." Note to the far left, is the LinkedIn.com message center icon. If you hover over the chat bubble icon, don't click, it will show you how many messages you have in each inbox.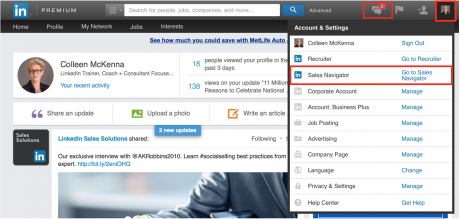 This is your Sales Navigator home page. Click on "Inbox" under the search bar. Again, if you hover over "Inbox" you can select either Sales Navigator Inbox or LinkedIn Inbox and how many messages are in each inbox. Be sure to click "Sales Navigator Inbox."
This is your Sales Navigator Inbox. Looks a little different than your LinkedIn.com inbox, right? Hopefully it is full of potential messages and great opportunities waiting to be answered! On the left, you can select "Sent" to see your sent messages.

Be sure to check your messages weekly, if not daily, in LinkedIn.com as well as Sales Navigator. There are many opportunities within LinkedIn waiting for you. Don't miss out on an opportunity because you are unsure of where something, like your inbox, is.
Happy Messaging!