One of my favorite LinkedIn features is the Publishing platform.
So when my associate Sydney gave me a "Hey, check this out. I think you're going to love this!" this morning I was intrigued.
She went in to publish a Post, and things looked a bit different. Since LinkedIn rolls everything out randomly over time, you may not have it quite yet. I wrote this post and later went in to publish an article from earlier in the week and the updated version appeared. I do like it. The toolbar was definitely wonky meaning not everything showed up and I couldn't load a photo into the main section of the post. Bugs I am sure will be worked out shortly.
If you create original content, then LinkedIn should be a lead channel for your blog posts and articles. It's knowledge sharing at it's best. Remember, I'm not talking about Sharing an Update. I am referring to posting your original content within LinkedIn's word editor.
Here's a preview from Sydney's LinkedIn.com account.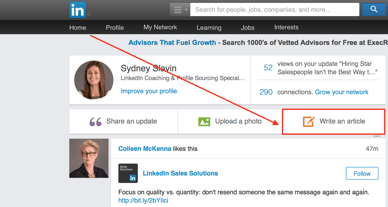 Here's a look at the updated features: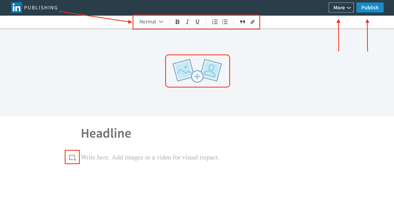 The More drop-down menu at the top right of the writing tool is a one-stop for all your publishing needs. Manage your drafts, find your published articles or access your Stats page to see who's engaging with your articles. CM:This is great for quick check-ins and keeping track of your drafts and stats.
The basic toolbar is located at the top of the page, above the cover image. It will follow you as you move down the page. You'll be able to format your text, create quotations and lists, and insert hyperlinks no matter where you are in your writing. CM:This is great for add visual emphasis within your post.
This is what my toolbar looks like at the moment:

The editor is now a full-width experience instead of a side bar. CM: This will look like a more familiar word editor for most people.
Cover images are now full-width and ideal for high-resolution images. This means a more impactful visual introduction to your article. You can find free, high-resolution images from sites such as Unsplash, Death to Stock Photos, and Flickr Creative Commons. CM: Please make sure you take the time to find GREAT images, it's worth the time. Death to bad images. Read Alicia's post about blog images.
There are more multimedia options in more places. Now you can add multimedia elements anywhere in your article, such as images, videos, podcasts, slides, tweets, and others by clicking the Add Multimedia icon. CM: Wow…podcasts, tweets and hashtags. This is going to be interesting. Be careful not to overdo any one post. 🙂
The one feature that seems to be missing is the ability to schedule posts ahead of time. Somewhere I have to believe this is on one of LinkedIn's engineer's lists. It would be so helpful.
I'm hopeful that as the updated Publishing features rollout people will be more inspired to create their best work for the world to see. Consider how sharing your expertise will build your credibility.
Don't forget to share this post if you found it helpful, Follow us on our LinkedIn Company Page, and check out our complimentary Tools at Intero Advisory.
*The new feature descriptions are pulled from LinkedIn's Help Center.