The second day of Talent Connect is marked by exciting new product announcements. We decided to include only that information in this blog post and let you sit with it for a while before we even get into our breakout sessions for the day.
Get ready, because this is going to be good.
Day 2
9am || General Session
Location: Row 4, center 🙂
Erin:
We're back in the main Arena space for the kick-off of day 2. The awesome bearded dj is back, so I'm super psyched.
I mean, just look at him! He really digs what he does. I love that!
Jeff Weiner, the man of the hour, takes the stage and his passion is almost tangible. He starts by reiterating LinkedIn's mission (to connect the world's professionals to make them more productive and successful) and then drops the first announcement –
LinkedIn is going to attempt to create the world's first Economic Graph. It will include LinkedIn members, companies, jobs, skills, schools and knowledge. My brain does not yet understand this announcement.
Colleen:
As engaging as ever, Jeff Weiner began the reveal with LinkedIn's new mobile app that will debut soon and reframe the existing app (most of you know I'm leary about using the mobile app for any heavy lifting and I think this may change) to focus on just five areas: Home, Me, Messaging, My Network and Search.
Erin:
Jeff shares the five components of the new LinkedIn flagship app and the crowd breathes a collective sigh of relief. It's about time!
9:31am
Erin:
Among so many highlights regarding the new LinkedIn app, Jeff announces that the My Network tab will offer calendar integration, to which Colleen audibly "oohs and ahhs" in a sea of quiet audience members.
Calendar integration will allow members to do things like look up the attendees of a meeting they are getting ready to attend, because LinkedIn will know who the attendees are after it's been integrated with your calendar. Really great stuff, folks!
At 9:33am, Jeff introduces another feature of the My Network tab – a list of attendees will populate within your app, allowing you to be able to Connect with them on LinkedIn instantly. "This will ultimately eliminate business cards," he says. Colleen lets out an "mmm hmm."
Colleen:
Jeff Weiner: "Welcome LinkedIn into the 21st century!" LinkedIn is rebuilding their flagship app to reflect how people want to use apps today. We see this with the new Inbox; LinkedIn is finally moving away from email to messaging to foster a more dynamic, personal experience for members.
This simplified interface will also have an app launcher so you can see and open the other LinkedIn apps you have downloaded (very Google apps-like, love this!)
9:39am
Erin:
In demonstrating the new app launcher feature within the updated flagship app, Jeff shows us that we can easily launch Lynda.com's app from here as well.
Colleen "ooohs" once again.
9:45am
Colleen:
Jeff then introduced Tanya Staples from Lynda.com (LinkedIn's acquisition of Lynda.com was the last piece of the puzzle for offering a complete economic graph: Members >> Companies >> Jobs >> Skills >> Schools >> Knowledge
Big takeaways:
The skills we need today didn't exist when we where in school.
The useful shelf life of skills and knowledge has shrunk to less than five years.
Only 38% of employees say they have opportunities for learning and growth at their workplace.
Enter Lynda.com. Need a skill before you're comfortable applying for a job? Go take one of over 3,900 classes available (access Lynda.com from the top of LinkedIn.com under Interests).
Erin:
Tanya at Lynda.com also announces a new Influencers series that they've created with LinkedIn. Check out the first installation with Fred Kofman on Managing Conflict.
And with that, LinkedIn and Lynda.com announce that all audience members get 30-day premium access to Lynda.com.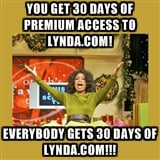 9:50am
Colleen:
Dan Shapero, Careers Product Leader at LinkedIn talked about the job seekers' experience and the importance of bringing job descriptions to life. Remember more than 89% of professionals use their networks to land a job.
Erin:
Dan Shapero takes a moment to once again stress the importance of the candidate experience and introduces us to the new and improved inJobs. He's totally speaking my language. He says, "For job seekers, the process [of applying for a job] can often feel incredibly impersonal." It's now 9:56am. Dan has been speaking for 6 minutes and he's already given me chills and made me tear up a bit.
At 9:57am he then switches slides and says "It's always been about the people." I am now openly weeping.
LinkedIn gets me! They really get me!
They've redesigned the Jobs page and completely catered toward every need that a job seeker might have. There will even be a "Something New" feature which will allow LinkedIn members to set their profile to say, "Hey, I'm looking" without anyone in their network knowing. But us recruiters will know. Oh boy, you bet we will!!!
10:04am
Colleen:
Innovation is back at LinkedIn. They are launching more new products in the next 12 months than in the last 12 years. We will be paying close attention to this.
Erin:
At this next-12-months-of-new-products announcement, Colleen exclaims, "WOW," loud enough for Dan (on stage) to hear her.
10:07am
Colleen:
Eddie Vivas, Head of Product, Talent Solutions spoke about the value of relationships and how they matter and then dove into introducing Next Generation Recruiter. It will be a whole new experience for recruiters and will amp up the candidate experience, the potential for better matches and ways to leverage employees' networks.
It's evident that LinkedIn has spent the last year focused on listening and reframing what's important and why. One question they asked is why aren't employees referring more potential candidates and they learned that there is a black hole.
Employees are often uncomfortable putting their names on the line and they don't receive any feedback on how the process may be progressing. LinkedIn has solved that by connecting a few key components together. There will be a feedback loop and visibility to employees.
10:09am
It's 10:09am and Eddie Vivas has just made, in my opinion, the most game-changing, life-altering, brilliant announcement yet –
LinkedIn is launching a product called Referrals which will allow members to #1) refer their Connections for jobs within their company and #2) refer open jobs to people in their network. This product will also integrate with a company's ATS and allow a person to track a referral as their Connection is being moved through the interview process.
This. Is. Amazing.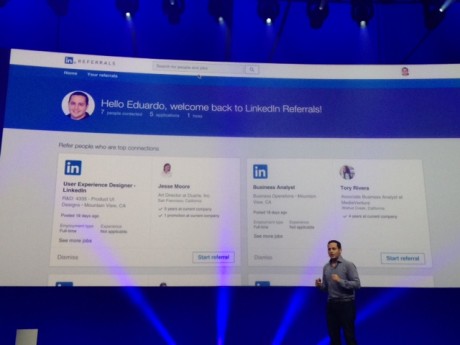 It will be a paid product, most likely launching in November. Keep your eyes out!
10:15am
Colleen:
Next Generation Recruiter is the beginning of reimagining the recruiter experience. One of the key elements of what we will see in early November is Spotlights where recruiters will see how a person is connected to your company, how they engage with your talent brand, and whether they applied previously. These individuals are 2-3 times more likely to respond to your outreach than a new candidate.
You will also now be able to enter "great people" into a search to find similar people to them. These may be better candidates than you would receive by entering keywords.
Erin:
And let's not forget about that awesome "Something new" feature. Members using Recruiter will be able to see people that have activated this feature in their profile, probably through a search filter. Very cool.
Colleen:
I think we will now be able to search well beyond keywords and connecting the LinkedIn dots will result in a richer group of likely candidates.
There are many more features including what you will come to love…a new and simplified user interface. Good work LinkedIn.
Erin:
LinkedIn's planning on rolling out this new Recruiter experience in "early 2016." And it's going to be a free upgrade for all Recruiter users. I don't know about you, but I don't know if I can wait that long.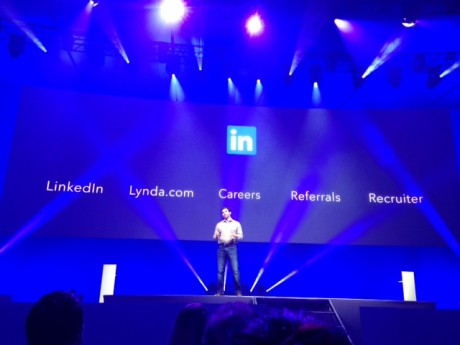 Colleen:
WOW, it's only 10:43 and we've already seen more than we anticipated even with all the conversation about major announcements. Holding my expectation in check changed to holding my breath with all the cool new ways LinkedIn is moving forward.
Stay tuned for more great information to come.
Need Help | Consultation Available
[download url="https://www.interoadvisory.com/schedule-a-call-with-erin/" color="blue"]Request more info[/download]