Listen to this week's post by clicking on the link below:
Timing is everything. Between my post last week, LinkedIn Apps Keep You Connected, Part 1 and today's Part 2, LinkedIn has announced some "app news". The Wall St. Journal reported last week that LinkedIn is testing two new apps, Groups and LinkedIn Lookup, and overhauling their messaging.
If you consider the changes that LinkedIn is rolling out across their apps and their overall platform, there are some points worth noting. They are intentionally working to:
Increase conversation and engagement
Increase relevancy in those conversations and content
Decrease spam, bad behavior and overt pitching
Even if you don't like change, LinkedIn's changes are good. Once you test them out, you might like them and appreciate less noise in the process.

Now, let's take a look at LinkedIn's suite of apps. Remember, Part 1 covered the general LinkedIn App for iPhone and iPad.
For Networkers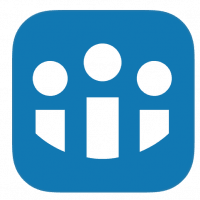 LinkedIn Connected Use this app to do one thing: be top of mind with your Connections. LinkedIn will ask you if you want to enable notifications. Connected is a simple way to focus on one single activity at a time; acknowledge someone who is having a birthday or an anniversary, has a new job or has an open reminder from using your Relationship tab in the full version of LinkedIn.
Side note – Is saying Happy Birthday, silly? I don't know, you decide. I tend toward wishing those I am Connected with and know well (or hope to know better) birthday wishes. I don't send them to everyone.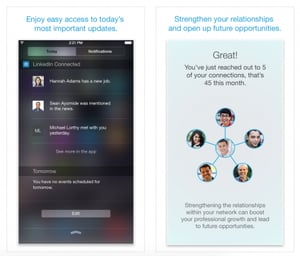 For Information Gatherers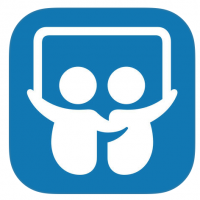 LinkedIn Slideshare 15 million presentations for your learning enjoyment. Log in and choose categories of interest to you. Categories include art and photos, automotive, data and analytics, engineering, education, sales, lifestyle, self improvement, services, small business etc.
You can view, like, share and save presentations that may be of interest to you. These presentations are a great way to learn, be inspired and maybe even understand your competition.
Need to create a new presentation? Get fresh ideas from checking out presentations from others inside and outside of your industry.
If you have a Slideshare account (recommended) you can see what you have saved and you can post your presentations to Slideshare for others to see.
Available on the App Store and Google Play.
iPhone View: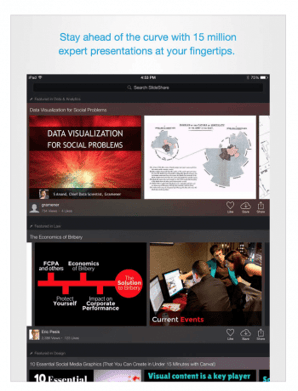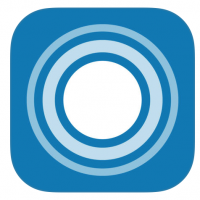 LinkedIn Pulse Slideshare is about presentations and Pulse is about LinkedIn Influencers and LinkedIn members' original content. Customize Pulse by choosing particular "channels" of interest. See an article or post of interest? Click on it and you will go to the full post. You will see how many people have liked it, commented or shared it with others. From here you can also like, comment or share.
You will also see three dots in a circle at the top right corner. Click on that to save the article, copy the link to the article or alter your Reading Options.
Hit the magnifying glass (search) if you want to look at additional topics known as "channels" on Pulse.
At the top left you will see a icon (head and shoulders) this will show you your Saved Articles, click again on the Gear at the top left and it will take you to your Settings.
Available on the App Store and Google Play.
Note: I will add new screenshots as they become available. The current screenshots represent the older iteration.
For Job Seekers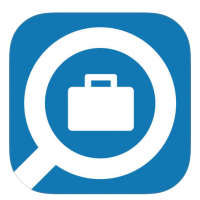 LinkedIn Jobs Now powered with Premium, you'll be able to access your Premium account and Premium Insight with this app. As an aside, if you are in an active search, consider upgrading to LinkedIn's Job Seeker Premium Membership.

LinkedIn Job Search: Search, sort, and filter to find just the right job for you. Log in and LinkedIn will ask you "what are you looking for?" and where. When you enter a job title LinkedIn will provide several version of that title. You can only choose one title. Note: take a look at the gear at the top right corner, this will be helpful.
You can turn on push notifications to be alerted when:
A new job matches your search

When a saved job is about to expire

When someone views your application

When LinkedIn finds a job for you to review

When someone at a company views your profile
LinkedIn displays open jobs, click on a particular job and you will be able to review the position, apply or save this job. You will also see how many people have applied for the position, when it was posted and information about the company. You can also share this position via email, social, text message and other other means based on your phone setup.
You can also save this list of current results by clicking on the star in the top right corner.
You can also filter this search by:
Most recent

Most relevant

Location

Companies

Functions

Industries

Seniority Level
These filters further define the best positions for you in your career.
The Discover icon displays other positions that you may want to check out based on your viewing history.
The Track icon displays positions you have reviewed.
The Notifications icon displays your saved searches, saved jobs and you can apply for jobs (stay organized).
Your job search is private and no one in your network will hear anything about your in-app activity.
Available at the App Store and Google Play.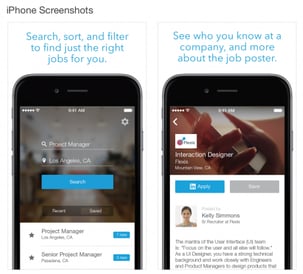 For Serious Sales Professionals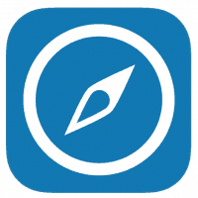 LinkedIn Sales Navigator If you haven't fully utilized all of the capabilities and features of your individual LinkedIn profile, Sales Navigator isn't necessary. The desktop version is good, but you will continue to need a Premium membership for your individual Profile. Sales Navigator is a different version of LinkedIn and is great for social monitoring and lead building.
Initially, set Sales Navigator up on your desktop/laptop then log in to your Sales Navigator app. You have a Homepage, Accounts, Leads and Messages.
When you log into your Sales Navigator app you will see four icons at the bottom of your screen. They are Home, Accounts, Leads, Messages. Your Home Page will provides updates on ONLY the accounts and leads you have chosen to save. It will NOT be the Home Page activity of all your Connections. You will see that your Sales Navigator Home Page is much easier to manage.
Your Account Page displays all the accounts you have saved. Click on a particular saved account and you will see how many leads (people) you have associated with this account, how you are connected into this account and updates posted by either the company, employees that you are connected. LinkedIn will also show you potential leads and you can quickly save the lead. You can also easily "Like" someone's shared post from here.
Your Leads Page displays all the leads you have saved. Save current clients and prospects to make it easier to stay up to date with their activity. When you click on a saved lead you will go their profile. You will be able to send them an InMail or Connect from here. Remember, it's better to log into your desktop to send these connections so you can PERSONALIZE your invite. If you are hoping to actually meet, talk with, and work with someone sending an automatic, unpersonalized invitation is a missed opportunity.
Messages displays only the messages you have sent through Sales Navigator. You will see the messages you have received, archived and sent.
Available at the App Store.


For Larger Organizations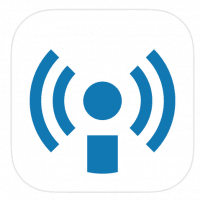 LinkedIn Elevate This is only available to large enterprise companies who participate in Elevate, and, is a paid product. It's goal is to increase your employees stream of quality content to share across LinkedIn and Twitter – and help influence all of the customers, prospects, potential hires, and industry influencers in their networks.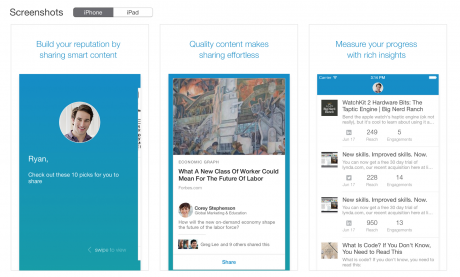 LinkedIn Lookup: Frustrated by out of date company contact information on your intranet or employee list? LinkedIn Lookup is a way to find, learn about, and contact anyone at your company, even if you're not connected to them on LinkedIn. In seconds, you can find a coworker by title, skill, name, expertise and more. Learn about them by checking out their up-to-date, streamlined profile. And when you ready, instantly make contact, even if you're not at your desk.
• Find: Looking for someone with a specific skill set or job responsibility? Search by name, title, skill, expertise, or something about what they do.
• Discover: Meeting someone new at work? Put a face to a name, learn more about them, and find common ground.
• Contact: Need to get in touch right away? Reach out instantly through the app, wherever you are.
Plus, it's just between you and your coworkers. Only coworkers using LinkedIn Lookup can view the profile data you enter into this application.
For Recruiters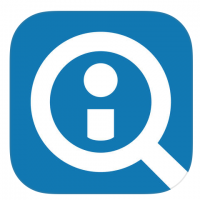 LinkedIn Recruiter If you are using LinkedIn's Recruiter you can download the app to review your Messages, Updates and Projects. On Intero's LinkedIn Recruiter account, I am set up as a hiring manager so I can only see Messages. If I was the administrator, I would also be able to see and manage Updates for Saved Searches, Projects and the People You May Want to Hire lists.
Available at the App Store and Google Play.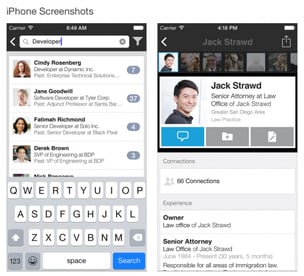 Groups (NEW!)
LinkedIn Groups As reported in Social Media Today and Venture Beat, the Groups app is launching a standalone iOS mobile app for Groups that will send push notifications for discussions and conversations (check out some screenshots from VentureBeat here). The mobile app will use an algorithm that's aimed at showing you content that matters to you while removing the spammy and irrelevant content that you're probably currently seeing within your Groups. An Android version will be available down the road.
We've covered a good bit of ground in these posts. I prefer LinkedIn's specific apps because they provide focused insight into one area of LinkedIn without the myriad distractions that you can't help but notice. Even as I was looking at the Home Page on my iPad, I saw a great new eBook from one of my Connections which I immediately read about and downloaded. For those of us who are easily distracted, we have to manage intentional activity from surfing, reviewing, and catching up.
Click here to learn more about LinkedIn's Mobile Apps.
If you found this post helpful, check out our other posts either on my profile or on our website, Intero Advisory or our Intero Advisory LinkedIn Company Page. Check back with us this week, while Erin Miller and I are attending LinkedIn's Talent Connect Conference in Anaheim, CA and bringing you daily updates on conference events and announcements.
Need Help | Personal Coaching Sessions Available
[download url="https://www.interoadvisory.com/request-more-information/" color="blue"]Request more info[/download]