I recently sat on a discovery call with a potential client and one of the first statements that she made was how powerful she remembers LinkedIn Groups being and how she wasn't sure what happened to them.
I asked her to elaborate and she stated that:
She no longer sees a lot of Group discussion threads on her home page.
She no longer receives as many updates from her favorite Groups in her inbox.
When she clicks into a Group, she isn't seeing as much discussion as there used to be.
I actually hear these statements pretty frequently, so I thought I'd share a few ways to plug back in to Groups. I will also be throwing a challenge out there for you to improve the activity within the Groups that you're a member of.
Why don't I see many Group discussions on my homepage?
Occasionally, on your homepage, you'll see that someone in your network liked something in a Group or started a discussion in a Group, but did you know that Linkedin has moved most Group chatter to its own dashboard?
If you hover over "Interests" and then click on "Groups," you'll be directed to your Groups Dashboard.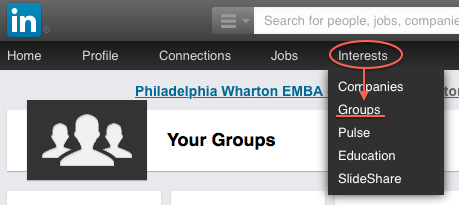 Here you can see:
A list of all of the Groups you currently belong to at a glance
A central location to start a discussion in any of your Groups
A running feed of the activity across all of your different Groups
A gear icon to access Settings for all of your Groups
A section to find a new Group or create your own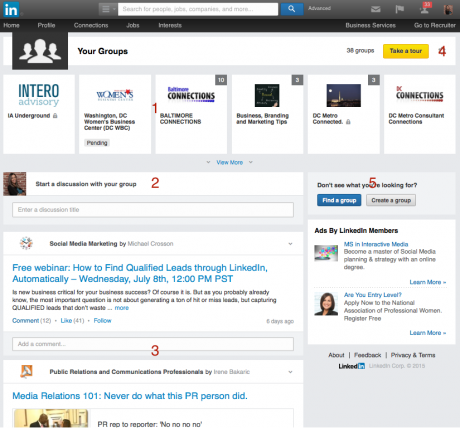 Why don't I receive Group updates in my personal email inbox? How do I control which Groups send me Group digests?
There are actually two ways to check the Group digest email settings and make changes. One way to change your contact settings is to click on the gear from the group dashboard. This will take you to a listing of all of your Groups.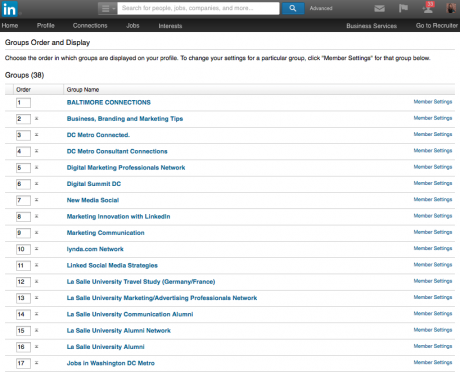 If you click on "Member Settings" you will then be directed to the Settings tab of a particular Group. Here, you can change your contact email and your preferred settings for Activity, Digest Email, Announcements, and Member Messages.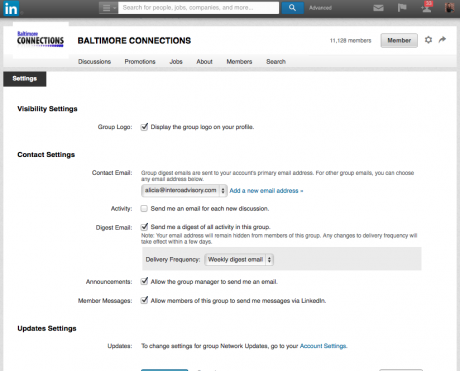 Another way to change your Group digest email settings is to go to Privacy and Settings, which is accessible through a drop-down menu under your photo, in the upper right-hand side of the screen.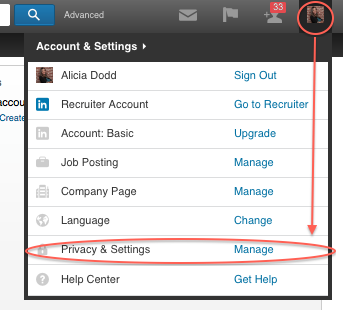 On the "Account and Settings" page, click on the "Groups, Companies, & Applications" tab. Here you can select to "Set the frequency of group digest emails."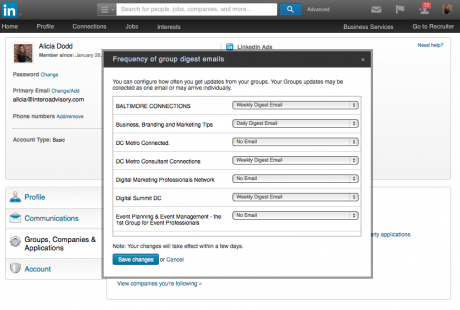 Where are the great discussions that used to go on in LinkedIn Groups?
I'd like to challenge you all to refocus the purpose of Linkedin Groups. I have to admit that I see way too much self promotion and link dumping in a lot of Linkedin Groups lately. Only we can change this. Let's all get back to only posting meaningful content within Groups. Let's ask questions. Let's share ideas. I believe in the power of LinkedIn Groups, but only when members use the Group appropriately.
I hope this posts answers some of the questions that you've had surrounding Groups on LinkedIn. Please take a look at some of the other posts that we've created at Intero regarding LinkedIn Groups.
Linkedin Groups: How to Save Inmail Credits
Use Linkedin Groups to Create Opportunity
Tips for Maximizing Linkedin Groups
Need Help | Personal Coaching Sessions Available
[download url="https://www.interoadvisory.com/request-more-information/" color="blue"]Request more info[/download]