Intero Advisory Success Story
Kester Search Group (KSG) is an executive recruiting firm that specializes in the permanent placement of qualified sales and management professionals into medical device, diagnostic, and dental companies throughout the United States.
KSG engaged Lindsey Stemann, Vice President of Intero Advisory, one year after the business launched. At the time, KSG had two employees: Lee, who focused on business development of new accounts and a recruiter who focused on recruiting candidates for those accounts.
The Challenge
At the time of the initial engagement, KSG was using LinkedIn with two individually upgraded accounts. This presented limitations into the visibility of more potential candidates on LinkedIn since individual LinkedIn accounts' access is based on the account holder's network. Kester knew that this was not a sustainable plan for the future as his team grew. Here are the challenges he faced:
Visibility into the global LinkedIn network would be based on the current state of that recruiter's network (presenting limitations to find more candidates).

If Kester had any turnover, that recruiter's network would leave with them along with any candidate interaction (potential candidate information would be lost).

When Kester grows his team, his recruiters would not know if a candidate had already been contacted by another recruiter (potentially damaging KSG's reputation in communication overlap).
The Solution
The first change we implemented was the investment of LinkedIn Recruiter licenses for both Lee and his (now) three recruiters. This investment allowed KSG to begin to have more visibility into LinkedIn and develop a recruiting procedure.
Through the "Build + Engage = Recruit" formula, we executed by:
BUILD:

Improving KSG LinkedIn profiles to make the team look cohesive, professional, personal and more likely to be found in search results.

ENGAGE:

Developing a business process to effectively use LinkedIn Recruiter as a team and deliver in the form of a starter guide.

RECRUIT:

Training KSG on best practices for multiple LinkedIn Recruiter seat-holders, how to stay organized, how to utilize saved searches, how to use reports to manage activity, how to proactively use Recruiter features, and how to develop InMail messages and test effectiveness.
The Results
11%+ increase in InMail response rates (30% up from 19%)
715%+ increase in Talent Brand Engagement
367%+ increase in Talent Brand Index
358%+ increase in LinkedIn Company Page Followers
275%+ increase in Monthly Company Page Viewers
178%+ increase in Monthly Employee Profile Views
47%+ increase in 1st Degree Connections
75%+ of candidates now sourced for KSG through LinkedIn

KSG retired its previous application tracking system and moved to LinkedIn Recruiter as its primary ATS (t

his saved KSG money that was reallocated to LinkedIn Talent Solutions)

2 KSG recruiters will earn President's Club (hitting their annual placement quota) status in 2015
While working on the Engage aspect of our "Build + Engage = Recruit" formula, we were able to easily track KSG's progress on their LinkedIn Company Page's branding, engagement, and content development.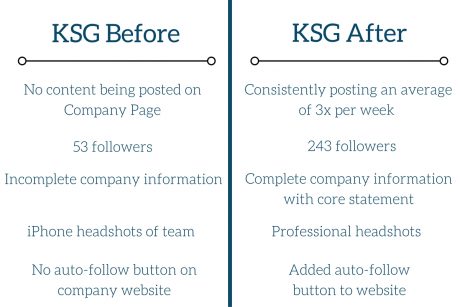 "LinkedIn made it possible for me to start my recruiting business. Through in-depth and strategic consulting with Lindsey & Intero Advisory, we have not only grown company-wide, but we have also exceeded our goals. Our partnership has positioned Kester Search Group as a premier contender in the national medical sales and management recruiting space."
– Lee Kester, President & CEO, Kester Search Group
Need Help | Personal Coaching Sessions Available
[download url="https://www.interoadvisory.com/schedule-a-call-with-lindsey/" color="blue"]Request more info[/download]