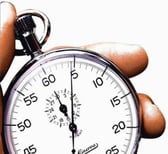 Your time is valuable. We get that. LinkedIn understands that too. It is one reason LinkedIn's corporate mission is: To connect the world's business professionals to make them more productive and successful. That's why we're asking you, "How are you using your LinkedIn homepage?" One of the first actions you should take when you log into the website each day is to scan your homepage.
Similar to other social media platforms, LinkedIn's homepage is constantly changing. From new connections, to promotions, to interesting articles, the LinkedIn homepage is chock full of updates. When I first began working with a client back in March, he said to me, "Ideally, I just want to log into LinkedIn one time per week for 60 minutes." Here's the problem with that: You will have missed six days' of activity in your network.
LinkedIn doesn't have to be an overwhelming tool that sucks the time out of your day. Quite the opposite. Oftentimes people will comment, "Wow. You and Colleen must be in LinkedIn for hours and hours each day. I mean, it's the business you're in, right?" Right…and wrong. On any given day, I log into LinkedIn five to six times throughout the day and am in and out within five to ten minutes each visit. How is that possible? I know exactly what I'm logging into LinkedIn for each time I click the bookmarked link on my web browser. If you need more perspective, watch this quick video on how to use LinkedIn every day, in just 9 minutes a day.
On your homepage you will see below the "Share an update" field a drop down menu that reads "All Updates." Now, you can easily sort your LinkedIn homepage by any of the 11 relevant categories. Personally, I use Profiles, News, Groups, and Companies most often. Profiles allows me to see who has made updates to their profiles. I can congratulate a connection on his or her promotion or like a new professional photo a connection uploaded. News gives me a snapshot of articles posted for the Channels and Influencers I follow on LinkedIn Today, LinkedIn's news aggregator. Groups lets me see what discussions have recently started and Groups my network has joined. Companies gives me ideas of who I might want to consider following.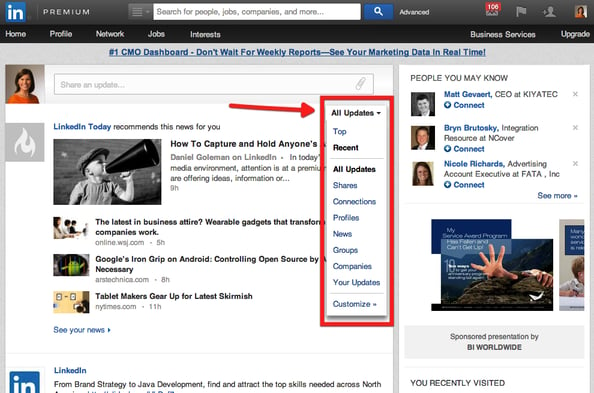 Want to personalize your LinkedIn homepage? Easy. Click "Customize" and choose which updates are the most important to you. Remember that all settings within LinkedIn are dynamic. If you don't like changes you've made to personalize your experience, you can always tweak and adjust as needed. What else do you do on your LinkedIn homepage? Let us know in the comments below.