Do people really pay attention to all the status updates on LinkedIn? Do you?
I have a very active network, but I do as much as I can to react to updates and use my home page to reach out, say hello, ask a question and stay top-of-mind. I glean invaluable information and trends from my home page, get new ideas and realize how many people I don't know.
Can it seem lonely? Absolutely. You post an update, an article, a comment, etc., and nothing happens. What do you do?
Keep posting and try to create a small audience that likes your updates and begins to acknowledge you. I often feel the same way but then I hear from people who say, "I love your tips" or "I appreciate your comments" and this encourages me on.
And now, LinkedIn has given us a new way of starting conversations. LinkedIn Mentions. You can now mention your 1st level connections and others on LinkedIn—it's like a shout out.
Three reasons to use LinkedIn Mentions:
You make LinkedIn personal (one of my training goals for this year). You connect your experiences and your connections, bringing new value to your connections. When you personalize your LinkedIn experience, you build real relationships and make LinkedIn work for everyone.
You acknowledge your connections in a meaningful way. Once again, personalizing the LinkedIn experience.
You begin a conversation and invite others in your network to participate. Good conversations on LinkedIn usually result in new opportunities, new connections, and a way to stay in touch.
How do I use Mentions?
I recently spoke at the United Way of Central Maryland's Emerging Leaders United Conference and after the conference was over, I went to LinkedIn and in my Status Updates "mentioned" my connections who were a part of the conference. I was also able to mention their organization and link to their LinkedIn Company Page.
How? In the Status Updates box on your Home Page, start typing your connection's name or company. When their name or company will appears from the drop-down menu, click on it and LinkedIn will create a hyperlink for that connection. Add any additional people your message or update and click Share.
The person you mention will receive an alert that they have been mentioned allowing them to comment. If you receive a mention you can also keep the conversation going. You can also you can also mention other LinkedIn members engaged in conversations in the comment sections of posts on the LinkedIn Homepage.
Here's how it looks: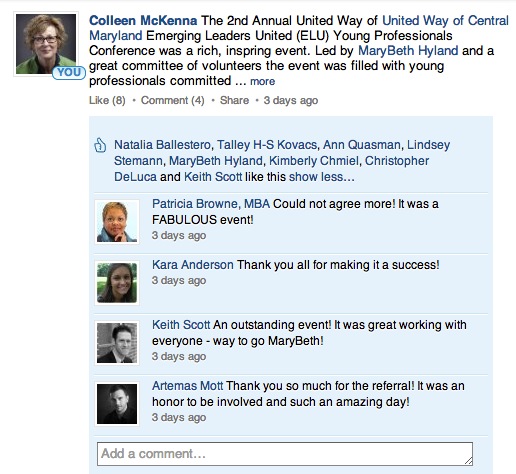 I really like this new LinkedIn feature, it's a great way to follow up, start a new conversation and be an active LinkedIn participant. Hope you try it out, let us know if it helps personalize your LinkedIn experience.
Want to learn more, check out Start a Conversation with Mentions on LinkedIn from LinkedIn
How have you used LinkedIn Mentions so far? Leave a comment or get in touch!