I am excited to join PI Midlantic as a consultant. Predictive Index, Customer Focused Selling and the Selling Skills Assessment Tool (SSAT) provide new tools that provide the necessary insight around the selection, team building and revenue generation process. I will regularly feature PI Worldwide and PI Midlantic posts and am confident you will learn, appreciate and apply key takeaways. — Colleen
Steve Picarde Jr., Vice President of PI Midlantic, explains Predictive Index and Group Analytics and how it benefits you and your organization.
For over 55 years, the Predictive Index has been helping companies hire the right person for the right role. The process has always been to define the behavioral demands of a position using the PRO survey, and then identify candidates that will be a natural fit for the role. This year, Predictive Index has introduced a more automated version of PI Analytics, which will take our clients' selection processes to the next level. PI Analytics allow us to plot the Predictive Index profiles of specific groups of people to identify consistencies among top performers and thereby target more of them in the selection process.
Gold Key/PHR, a relatively new client to PI Midlantic, applied these analytics and saved over $120,000 in recruiting and hiring costs alone in their first year with PI.
For over 20 years Gold Key/PHR has developed, owned and operated resorts in Virginia Beach and the Outer Banks of North Carolina. Gold Key relies on a team of marketers, called OPC's (Off Property Contacts), to connect with prospective time-share owners and schedule tours. In the vacation markets industry, the OPC position has notoriously high levels of turnover.
No company in the industry does a better job of using metrics to track OPC sales-results than Gold Key/PHR. By combining their metrics with our Predictive Index Analytics, we were able to identify clear consistencies among the top performing OPC's.
Certain behaviors were critical to success in the role:
-Norm Dominance – not too aggressive, not too timid
-High Extroversion – connect quickly with prospects and sell the resort concept
-Low Patience – a proactive, results orientation
-Low Formality – comfort in asking for the business early in the sales process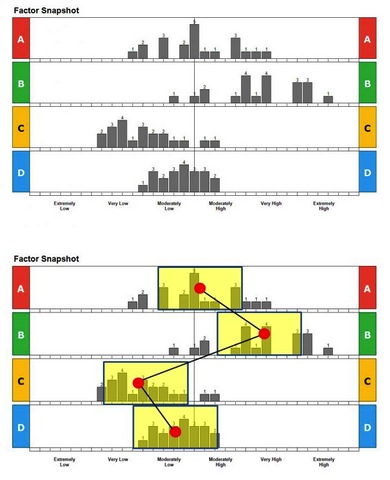 Gold Key began targeting OPC's that fell within the successful fit range and the results were astonishing. In 2010, prior to the implementation of PI, Gold Key hired 330 OPC's. The following year, by attracting the right people for the role, they only had to hire 130 OPC's (61% fewer hires). The administration cost, to simply process and train each new OPC is $600. By hiring 200 less OPC's in 2011 Gold Key/PHR was able to save $120,000 in administration costs alone. That number could easily triple if they factored in other turnover costs like opportunity loss, downtime, lost productivity, etc.
Ready to see these analytics on your key positions? Learn more and receive one complimentary PI assessment.