Intro:
Some clients and contacts are extra special. We have had the pleasure of working with Ed Mullin for over 8 years now. He is highly knowledgeable in his field, witty, generous with his time and network, and has just the right amount of kookiness to be an honorary part of the Intero family. We recently got together to help him with his LinkedIn profile, as he launches a job search. His reflections and takeaways are below…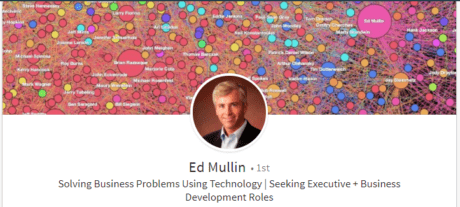 So, I'm in another job search. Unlike the times I've searched for a job in the past, I have a strange feeling of confidence and excitement this time around. Although, I'm definitely not saying there haven't been a few times when I've woken up in a sweat wondering if I'm going to have to sell my prized collection of 80's LP's to feed the dogs and pay the mortgage.
Because of social media products like LinkedIn and Facebook, I feel like the chance of aligning my skill set with a potential employer's needs is much easier. Plus, it is a hot market. Unemployment is really low for tech people in the Baltimore area and I am grateful for this, as I went through a job search during the dark days of the dotcom bust.
So, I set about the task of getting my resume and LinkedIn profile up to date. And I started talking to my business colleagues about next steps. Then I hit a wall. Almost every conversation has started with "Well, what do you want to do next?"
A little background: I am obsessive about networking, which is kind of unusual for a CTO / CIO ("propellerhead"). But alas, it's true. I've been running a developers' user group for over a decade and people regularly meet with me during their job searches. I always try to help people whether they are friends or strangers; helping with a job search is good karma.
But I hate when people can't tell me the type of job they want. For example, newly minted programmers just out of the university will tell me they want to be a programmer. Well, what type of programmer? Game developer, NSA Crypto coder, the next Mark Zuckerberg, safe secure big corporation SAP programmer, or university algorithm researcher? Help me out here! What's your dream job? If you can't articulate that for me, I can't help you as much.
Now my friends are asking me the same question and I'm struggling. It's not that I don't know what I want. I actually would like one of several types of jobs – I'd like a challenging CIO position at a company that has technology / software that gives them a competitive edge, and they'd like to leverage that edge to grow and take over new markets. Ideally, they value the person at the helm, who can navigate them through the complicated systems development lifecycle (SDLC) and technical employee relations issues.
I also really like Business Development; but not sales gigs being improperly labeled business development. Sales people sell, business developers cause sales to happen, whether by closing the deal themselves or more efficiently causing lots of sales to occur through channel sales, partnerships or subject matter expertise. (I transitioned several years ago into technical business development, but now I think I could work for a manufacturing, professional services or product company).
But the question is how to relate that in a single LinkedIn Profile.
So when in doubt, call an expert. When it comes to LinkedIn, my go-to are the folks at Intero Advisory. I've known Colleen McKenna for years and heard many success stories from her clients. She connected me with Erin Dore Miller who headed me down the path to solving this conundrum. And she started the process with just one question that we all should ask ourselves, "Why do you do what you do?"
And that is the subject of part two, entitled "The Complicated LI Profile."
Feel free to visit Ed's profile to learn more about background and expertise.
And, if you are interested in working with us on your LinkedIn profile, give us a ring!