Listen to this blog post while you're on the go:
http://bit.ly/1K2mSIQ
Well folks, LinkedIn is at it again: significant changes to the LinkedIn inbox are beginning to roll out to members. In typical LinkedIn fashion, parts of the new inbox work and other areas are clunky and seem to still be in development mode.
I am sharing with you what my team and I know today. Things may change tomorrow. Bear with us as we are working through understanding these changes just like everyone else.
To get an idea of these LinkedIn inbox changes, use this link to learn more: Updated Messaging Features. Unfortunately, this link is not easy to find in LinkedIn's Help Center. I searched ten ways from Sunday to find this information and even put in the exact title of the update and got nothing. So, use the link in this post to learn more. Also unfortunate, but not new, LinkedIn does not provide screen shots in their Help Center, so I hope all of the images below in this post will put some context around the new look.
Here is a snapshot of the information you can dig into from the above link: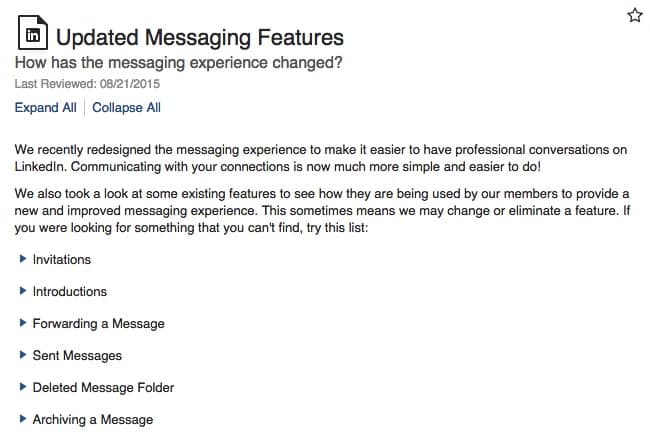 Upon figuring out how to decipher these new LinkedIn inbox features, I came to the conclusion that we cannot call it an inbox anymore. An inbox insinuates that all of our messages and invitations live in one place. They do not anymore, or, they will not when you receive access to the new version. As the above link describes: these are messaging feature updates. Your invitations will live in a new place. Your messages (one-to-one or one-to-many) will live where they used to, just with a new look.
LinkedIn Pending Invitations: New Location
Let's address your pending LinkedIn invitations first. They will now be located on the People You May Know page.
To access your pending invitations you will need to hover over the Add Connections icon (the little person icon with a plus symbol), then click on "See all" when the dropdown menu appears.
Cumbersome, right? My hope is that LinkedIn will get enough Feedback and make these pending invitations more accessible. If you have never submitted Feedback to LinkedIn, I will explain how to at the end of this post.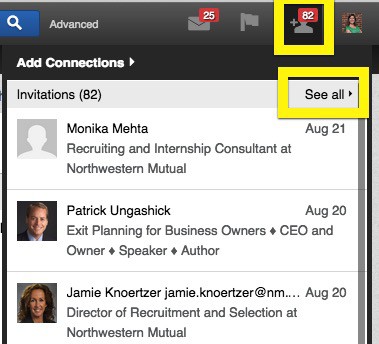 When you get to the People You May Know page, any pending invitations you have will live here. If you do not have any pending invitations, LinkedIn will suggest people for you to Connect with from this page. Remember: We recommend personalizing the invitations you send out and this page does not give you that opportunity. Go to the person's Profile. Then Connect to personalize your invitation.
Be sure to hover over the quotations icon to see if you have a personalized pending invitation. You do not want to miss these messages.
Remember my favorite button in LinkedIn? If you missed it, I wrote about it in my "Need a Bigger Sales Pipeline?" post. Thankfully LinkedIn did not remove my favorite feature: Replying before accepting or ignoring invitations. When you are hovering over the quotations, move your mouse down to click on the left arrow. This will allow you to reply to the invitation before accepting or ignoring it.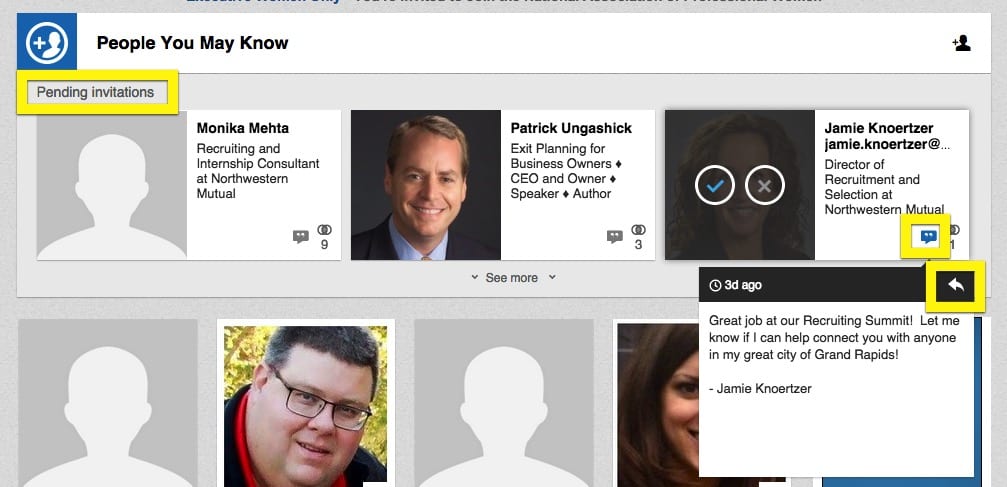 You can also access your Sent and Blocked invitations from this page by hovering over the People icon in the top right corner:

LinkedIn Inbox: Updates to Messages
Since change is inevitable, especially within an online business tool like LinkedIn, I try to keep an open mind. I have to be honest, though—I am not a fan of this new LinkedIn inbox. Not yet, anyway. Below is a visual of what changes are coming to your LinkedIn messages: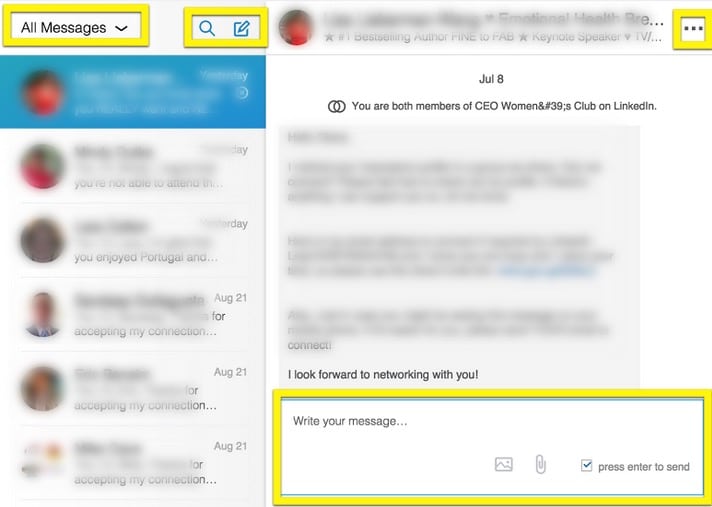 Here are detailed explanations for Forwarding, Sending, Deleting and Archiving messages.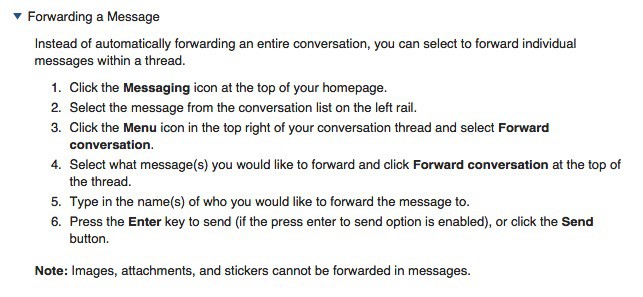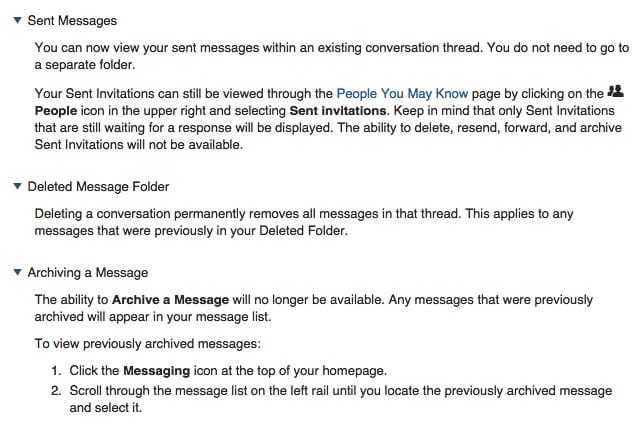 So, do you have the new LinkedIn messages? What do you think? Let us know in the comments section below.
Submitting Feedback to LinkedIn

Although you cannot submit Feedback from the mobile app, simply go to your Home Page on the web-based version of LinkedIn, and then click Feedback on the right-hand side of your screen. It's that simple. Be the squeaky wheel. If you have an idea for LinkedIn to improve its platform, use this feature. LinkedIn is in business because of us—its members. If your suggestion makes your experience in LinkedIn more productive and if enough other members chime in with similar suggestions, I would venture to say at some point you just may see your idea come to life inside LinkedIn.
Need Help | Personal Coaching Sessions Available
[download url="https://www.interoadvisory.com/schedule-a-call-with-lindsey/" color="blue"]Request more info[/download]