The LinkedIn background photo feature is a great way to create visual interest on your Profile. It can also be an opportunity to make a statement about who you are or what you're interested in, or to share a company logo or other marketing information about your business. But so many people leave their background photo blank and I understand why. If you're anything like me, all of your photos are on your phone. It takes some effort to a) take a great photo that you'd want to share with your professional network b) get it from your phone to your computer (remember, we do not advise making any profile updates on your mobile device) and c) formatting your chosen photo to the recommended size requirements according to LinkedIn. Those size requirements are 1584×396, by the way…. not a standard photo size at all.
So, what do you do when you're short on time, eager to thoroughly update your Profile and ready to make a visual statement that will speak to your network? We've found a great resource that can help!
LinkedInbackground.com provides an excellent selection of background photo options, sorted by category, easy to download and already formatted to the size requirements that LinkedIn has set up. I was so excited when I happened upon this website that I started telling everyone about it. I even made my husband stop what he was doing and go in to update his background photo. It's so simple and it makes a huge impact.
With categories like Abstracts, Businesses, Nature and Technology, there are pages and pages of interesting photos to choose from; photos that can tell a story about what's on your mind or what you're currently working. Or maybe you're just really excited about Autumn and want to share a picture of the leaves turning orange. This site makes it so easy to go in and update your photo whenever you'd like.
To download a photo, simply choose your background image and click on the image to download.
2. Then visit you profile and click on the pencil icon in the top part of your Profile: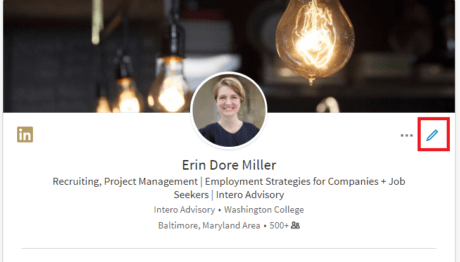 3. Click on the pencil icon in the background image field to upload or update your background photo: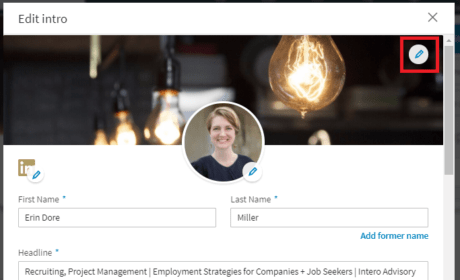 4. Then, click on "Change photo," open your Downloads folder to find the image that you downloaded, and click "Open."
5. LinkedIn gives you several ways to alter your photo if desired, but with these photos it's really not necessary. When you've gotten your photo uploaded and set as you want it to appear, simply click "Apply."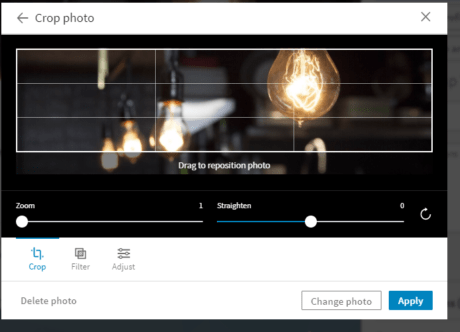 So, have some fun with it! Pick a photo that speaks to you and don't be afraid to change it when you're ready for something new.